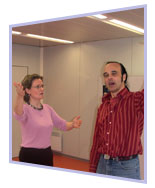 Iane Roulleau teaches singing in Antibes Conservatory (06 - Alpes Maritimes). She gives indivudual sessions of vocal technique and interpretation and ……… a workshop on opera. She conducts the conservatory adult chorus in concerts as well as in opera excerpts performances.
During 2007-2008, the class will take part into three project :
• « les p'tits loups du jazz », an introcution to vocal jazz,
• songs performed by some students in a musical tale for children,
• opera scenes (Le nozze di Figaro, Carmen)
In addition to these projects, students sing regularly chamber music as part of the conservatory auditions.

Iane Roulleau teaches singing in Valbonne Sophia Antipolis Music School. She teaches children as well as teenagers and adults.

She also does voice coaching for teachers at the Versailles IUFM (University Institute of Teacher Training).

She is responsible for vocal training at the Carmelite Monastery in Avon (77).